Tucson RV Storage Facility
Facility Description:
Our Tucson RV storage facility is unique in that every RV parking spot is covered. The aisles at our facility are forty (40) feet wide, providing our customers with the ability to easily access or park their vehicle.
At all of our storage facilities, we do our best to accommodate you after you've just come back from a long trip. We've provided you with on-site dump stations to clean out your RV, easy-to-use water pumps to wash away the dirt, and a resident manager to answer any questions you may have.
Our job is to make sure your recreational vehicle (whether it be an RV, boat, trailer, or truck) is always safe and secure. As part of our newly upgraded facilities, we have 24-hour video surveillance monitoring your vehicle. Along with covered video surveillance, the whole RV storage facility is surrounded by a security gate.
Facility Features:

Covered Parking

Late Entry

Video Surveillance

Secure Fence

Dump Station

Facility Lighting

Resident Manager

Request 24/7 Access
How our RV storage facility is different
Park 'N Shade RV is a unique facility allowing you to store your recreational vehicles under covered parking in a secure environment. EVERY SPACE at Park 'N Shade RV is covered!
Park 'N Shade RV has created a storage facility that is safe, secure and also an economical solution to storing your recreational vehicles.
Every parking stall is covered to protect your RV from the sun and weather. Easy access is also provided, allowing you to safely, and quickly get access to your RV.
At Park 'N Shade RV, the aisles are 40 feet wide, allowing you to easily access and park your RV.
You won't find any RV storage facility better than ours!
Reserve your space today.
or call (520) 531 – 9234
7935 W. Tangerine Road
Tucson, AZ 85658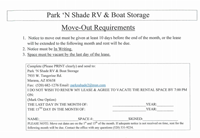 Tucson Move-Out Notice
In order to move out, we require that you fill and submit our Move-Out Notice form (10 days before the move-out date), as we do move-outs on the 15th and the end of the month.